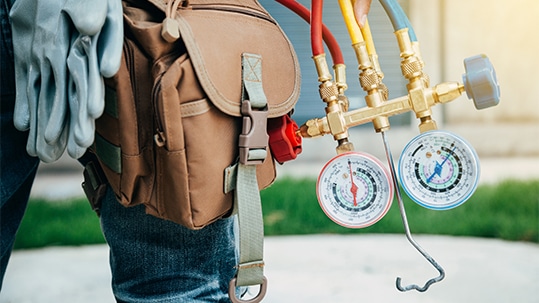 21 Apr

Let the Ritual of Spring Cleaning and Air Conditioner Maintenance Begin

Our HVAC technicians at Chief Heating & Cooling aren't only experts at performing spring AC service, but they're also homeowners, spouses and parents. When spring rolls around, they juggle ensuring air conditioners are in prime condition to keep our customers cool in the summer along with handling their own home to-do lists.

We talked to our service and repair technicians before they rushed out to their service calls across Lee's Summit and the KC metro and asked for their top spring home maintenance chores. Not surprisingly, many of them affect your air conditioner's performance, either directly or indirectly.

First things first.

Call Chief Heating & Cooling to Schedule Spring Air Conditioner Service

By the middle or end of May, it'll be warm enough to warrant turning on the AC for the summer. Schedule your air conditioner service appointment now to avoid longer wait times later and you know it'll be ready to go when you are.

Your Chief Heating & Cooling service technician will clean, examine and repair your AC. Plus, regular maintenance keeps your AC unit running more efficiently not only this summer, but for years to come.

At the very least…

Change Your HVAC Filter

Changing the filter is part of our AC maintenance service. But, if you forego an annual AC service this year, change your HVAC filter at the very least. This is an easy and inexpensive thing to do, yet will go a long way toward preventing problems with your unit.

Our HVAC techs recommend keeping a few filters on hand and changing it at the beginning of each spring, summer, winter and fall. You might consider changing the filter more frequently if you notice dusting more often, have pets or suffer from allergies.

Summer-ize Your Whole Home Humidifier

If you have a humidifier attached to your HVAC system, turn it to the off or summer position. Depending on the type/brand you have, you can remove the filter and drop in a clean one next fall before you fire up the furnace.

Take a Tour of Your Home's Exterior

It's probably been a few months since you took a good, hard look at your home's exterior. Spring is the time to take a tour and look closely for dry rot, peeling paint and loose window seals. These conditions need to be addressed quickly so that they don't worsen (and become more expensive to repair later).

Re-caulk around windows and doors if you notice splitting or separation to keep cool air in and warm air out. After all, you're not paying to cool the outdoors.

Change the Blade Direction on Your Ceiling Fans

Ceiling fan blades should rotate counterclockwise in the summer. Using ceiling fans can help keep you cool and prevent your AC from working too hard to maintain a comfortable temperature.

Test Safety Alarms

If your alarms aren't part of a smart home system make sure you change the batteries in your smoke detectors and carbon monoxide detectors when you turn your clocks forward. Be sure to test them after you change the batteries.

Check Your Gutters and Remove Debris

Check gutters before the spring rains come and remove debris that could cause water to flow where it shouldn't.

Clean the Area around Your AC Unit

Remove any debris around your AC unit and trim any flowers, bushes and shrubs back far enough where they won't grow into or around it. Apply a pre-emergence fertilizer to your lawn that will control any weed growth.

Get Started on Spring Cleaning with an AC Maintenance Appointment

Our team at Chief Heating & Cooling is ready to help you get prepared for the summer ahead. Get a jump start with AC maintenance. Contact us or call us today at (816) 246-4646 and let's get your home on our service schedule.